Home Inspection Done Right
Proudly serving the Central Idaho Mountains including McCall and surrounding areas.

Welcome to HomeCraft Home Inspections, a home inspection company in the Central Idaho Mountains owned and operated by Todd McKenna. We have been inspecting residential and commercial properties for over 10 years and are eager to help you better understand your dream home. You deserve an inspector who is honest, reputable, and on your side throughout this important process, so look no further than HomeCraft Home Inspections.   
Educating Homebuyers in the McCall Community
Buying a home is likely the biggest investment you will make during your life, so make sure that you have all of the information available to you before making your major decisions.
At HomeCraft, we are dedicated to our local community and the surrounding areas. We leave no stone unturned during our inspections and make sure that our clients have a comprehensive understanding of the home's unique issues and required maintenance.
By the end of an inspection, clients who work with us will feel well-equipped to make difficult purchasing decisions and communicate with sellers or agents effectively and clearly. Our inspection fees are not always the lowest but they are competitive, and there is no charge for a free quote.
The Interactive Create Request List (CRL™) Tool

You will receive an electronic copy of your home inspection report the same day that we complete your inspection. Our reports are generated using HomeGauge Software and are thorough, easy-to-understand, and interactive.
A user-friendly Create Request List (CRL) tool is included in your inspection report. This feature allows you to build a project list of home repairs directly from the report itself, giving you a simple and straightforward way to communicate your requests to your realtor. We encourage you to call us after receiving your report with any additional questions.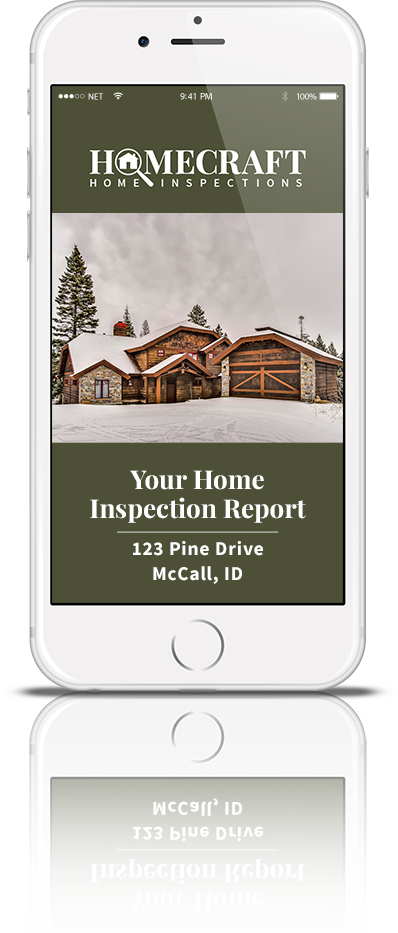 Contact HomeCraft Home Inspections today if you reside in the Central Idaho Mountains and are in need of a professional home inspection.

Contact Home Inspector Todd McKenna